Frequently asked questions
Do I need to subscribe to the 24/7 help Desk in order to recieve other services?
---
Yes. We require all of our customers to be subscribed to the Help Desk in order to benefit from the other services we provide. This is to guarantee the highest possible quality of customer care and to ensure that all additional services are monitored, secure and maintained effectively. If you have any questions regarding specific requirements please contact us directly to discuss your options.
---
What's the process after I sign up?
---
At the end of the sign up process you will be able to schedule an 'on-boarding call' with your new IT manager to go through all the finer details and make sure you're getting the support and cover that's right for you. You won't be invoiced until this phone call has happended. Our billing schedule means you will either be invoiced on the 1st or the 15th of the month depending on what works best for you and when you would like to start your cover.
---
What software is installed on my PC?
---
The key software for installation on your PC is our 'agent' software. Each PC for which you require helpdesk cover will need this agent installed. Installing the agent will also include automatic installation of our Anti Virus package. Once the agent and the Anti Virus software are both installed your PC then instantly becomes part of the BootUP PC portfolio enabling you to benefit from our 24-7 monitoring of software and hardware, 24-7 helpdesk cover, Anti Virus protection and Logmein for remote control of your PC (which you can also use yourself when out of the office).
---
How do I install the agent software?
---
When you sign up you will be emailed a link to install the 'agent' software. You simply need to click the link to download the software and then run the downloaded file to install it. It's a silent installation process, so it will appear as if nothing has happened and you need to click yes to accept the changes. It's worth leaving your PC on for a few hours after running the install file to make certain everything is installed fully. If you need to confirm installation then you can check in "Add Remove Programs" on your PC for the entry "ITSupport247-DPMA".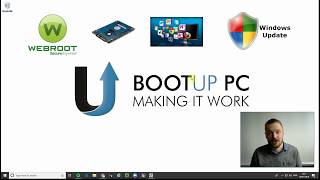 ---
---